TLSO / LSO SMOOTH OVERLAP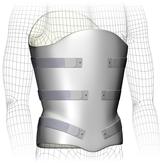 Features:
Anterior section slides over the posterior section at the lateral midline which allows for a total overlap of 4-6 inches.

Total contact design provides maximum immobilization and control of the thoracic or lumbar spine.

Applies firm couterforces to restrict motion by the patient in all planes.

Superior orthosis of choice for corpulent or pendulous patients.

Best orthosis for accommodating patient weight gain or loss.

Effortless donning and doffing

Available in LSO or TLSO configurations.

Elongated posterior straps come well past the lateral midline, are rigid, and hug the contours of the anterior section. They are extremely easy for the patient to find and match with the anterior straps.

One piece anterior straps allow for greater adjustability and strength.

Can be fabricated custom to measurement, custom to cast, cad-cam or custom to tracing.
Material Options
Plastics: LDPE, Co-Poly, Polypro

Liner: Aliplast or unlined

Plastic Thickness: 1/8, 5/32, 3/16

Liner Thickness: 1/8, 3/16, 1/4
Options
Inflatable lumbar pad

Over the shoulder straps

Under the axilla straps

Somi Cervical Attachment

Minerva Cervical Attachment

Sternal Pad

Ventilation

Hip spika attachment
Specifications
Custom lordosis

Neutral or Corpulent anteriors

Low or high profile TLSO

Male, Female, or Adolescent