TLSO / LSO EXTERNAL FRAME ORTHOLITE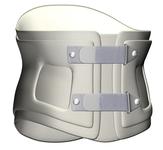 Features:
HD aliplast tongue on anterior opening.

20% lighter than a standard LDPE orthotic of comparable thickness.

Relief windows can be positioned anywhere on the frame.

Windows are not completely open but have aliplast brdging which prevents window edema.

Softer, more forgiving than the standard, rigid orthotic. Will contour to patient.

Distal and proximal edges consist of foam only (1" - 2"). Foam will contour and flare.

Frame can be easily removed for trimming.

Available in LSO or TLSO configurations.
Material Options
Plastics: LDPE, Co-Poly, Poly outer fram

Inner Liner: 1/4" 4E Aliplast inner liner

Outer Frame: 1/8" (LDPE, MDPE, Co-Poly)

Outer Liner: 1/8 10E Firm Aliplast outer liner

Plastic chafes with or without metal loops

Plastic or metal rivets
Options
Breasts included on female high profile TLSO

MDPE, LDPE, or Co-Poly outer frame (1/8", 5/32", or 3/16" thickness)

Placement of windows or no windows utilized

Plastic rivets, metal rivets, or truss nuts to secure frame to liner laminate
Specifications
Custom lordosis

Neutral or Corpulent anteriors

Low or high profile TLSO

Male, Female, or Adolescent